2020-2021 season
The following is the Russian River fisheries update required by the July 28th Order approving the Agency's Petition for Temporary Urgency Change in Permit 12947A, 12949, 12950, and 16596 (Applications 12919A, 15736, 15737, and 19351).
Sonoma Water is reviewing video collected in the mainstem Russian River at Mirabel to monitor returning adult salmon and steelhead. We observed the first adult Chinook salmon for the 2020 return year on September 29. We have reviewed video through January 2, 2021 for video collected in the West fish ladder and through January 7, for video collected the east fish ladder. To date we have observed 602 Chinook, 246 coho, and 174 steelhead.
Sonoma Water conducted two salmon spawning surveys on October 7, and October 14. These surveys were conducted in Dry Creek and the upper Russian River. No salmonids or redds were observed.
Previous Year's Totals
Below is a graph comparing Chinook salmon counts from the video monitoring system from prior years.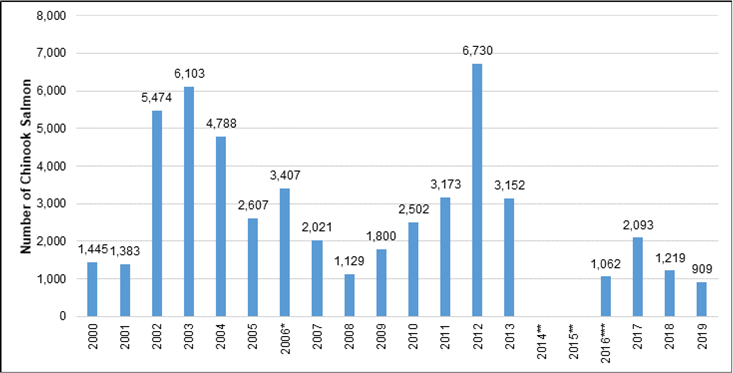 *Video cameras were reinstalled and operated from 4/1-6/27/2007 but no Chinook were observed.
**Video cameras not operated in 2014 and 2015 because the site was under construction in order to construct the new fish screens and ladder.
***Typically 1 camera is operated in both fish ladders but in 2016 a video camera was only operated in the east ladder for the final 10 days of the season.

Per the Biological Opinion and State Water Resources Control Board Order, the video counting system operated continuously at both fish ladders (on either side of the dam) as flows permitted. Sonoma Water biologists and a team of technicians review the time lapse images seven days a week and visit the site daily to clean and maintain the cameras.

Chinook salmon currently returning to the River are offspring of wild parents that spawned naturally in the upper 75 miles of the mainstem or in Dry Creek. Unlike many steelhead and coho salmon in the Russian River, there is no hatchery production of Chinook salmon. Fish returning to spawn are two to four years old. Spawning typically commences in November and continues through January. Eggs incubate in the gravel for roughly two months before fry emerge and begin their downstream migration to the estuary. Sonoma Water trapping and marking studies have shown that most juvenile Chinook salmon enter the Pacific Ocean by July of their first year of life.
---
We Need Your Help

Recovering Chinook salmon in the Russian River will require the participation of everyone in our community. If you observe any active Chinook poaching or suspicious activity, please notify the Sheriff's Department at 707.565.2121.
---
Related Videos