Drought Is Still Here. Save Water.
The Russian River watershed is entering a third consecutive year of below-average rainfall. As a result, water supply levels at Lake Mendocino and Lake Sonoma remain at historic lows. Sonoma Water and its partners in the Sonoma Marin Saving Water Partnership (SMSWP) urge our community to keep up the great work and effort – water saved now, is water we can use later. 
We all need to make changes to our everyday habits to eliminate water waste and preserve water supply. Every drop saved helps maintain water flows in the Russian River and extend reservoir storage levels should the current dry period continue.
---
General Updates
View the 

latest virtual drought town hall recording and FAQ for an update on the drought emergency . 
On Wednesday, May 25, Sonoma Water filed Temporary Urgency Change Petitions with the State Water Resources Control Board to establish a Critical water supply condition for both the upper and lower Russian River. Under Critical water supply conditions, the Russian River would have minimum instream flow requirements of 25 cfs and 35 cfs in the upper and lower river, respectively. If approved, this change will allow Sonoma Water to continue the minimum instream flows that the river is currently operating under and preserve water supply in both Lake Mendocino and Lake Sonoma. The current petitions also commit Sonoma Water and its retail customers to a 20-percent reduction in total diversions from the Russian River between July 1 and October 31 compared to the same time period in 2020.

Reservoir capacities are lower than they were during the last drought, which was 2013/2014. View more data on this drought.  
Residents are encouraged to continue using water wisely and eliminate water wasting activities. Learn more water saving tips at savingwaterpartnership.org.

Join Virtual Drought Town Hall 
Please join Sonoma Water and the County of Sonoma on Zoom for a virtual town hall on Thursday, Oct. 13 to update the public on the drought emergency.
Experts will provide the latest information on drought conditions and answer your questions. Participants will receive a new report on the prospects for a fourth year of drought and learn about programs to help private well owners.
Drought town halls occur the first Thursday of every month at 4 p.m. through November on the following dates: 
 November 10, 2022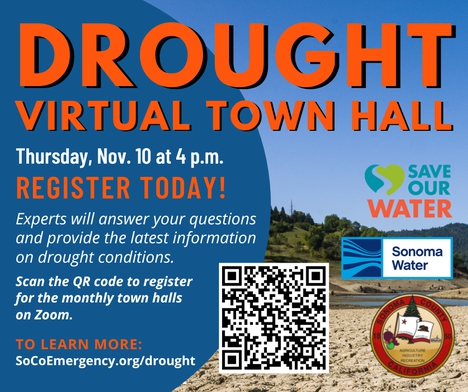 Register here to view the town hall on Zoom and pose questions to panelists: https://sonomacounty.zoom.us/webinar/register/WN_l2UFucwXQmu5KHf7q4wEOw
Spanish and ASL interpretation will be available on Zoom. Questions may also be submitted in advance to publicaffairs@sonoma-county.org
Learn more at https://socoemergency.org/emergency/drought/
What is Sonoma Water doing in response to the drought?
Explore various efforts and initiatives in the timeline below by clicking through the photos and text.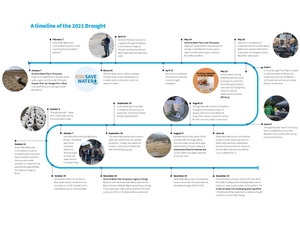 View drought Frequently Asked Questions.
view Sanitation Water Efficiency Rebate Program
Cumulative River Diversions Weekly Report
To monitor our progress on achieving the 20% river diversion reduction requirement under the
June 2022 TUCO (term 12)
, we'll be issuing a weekly diversion report. This plot of cumulative diversions continues the same weekly reporting implemented last summer. Below is the current week's plot of cumulative river diversions starting July 1st, shown in comparison to baseline 2020 diversions over the same time period.
This is the last weekly report for diversion reductions as today October 31, 2022, is the last day of the compliance period for the 20% reduction requirement under Term 12 of the June 2022 TUCO. Below is the current week's plot of cumulative river diversions starting July 1st, shown in comparison to baseline 2020 diversions over the same time period. Cumulative reductions are at 30.5% with a total diversion reduction volume of 2,185.2 MG.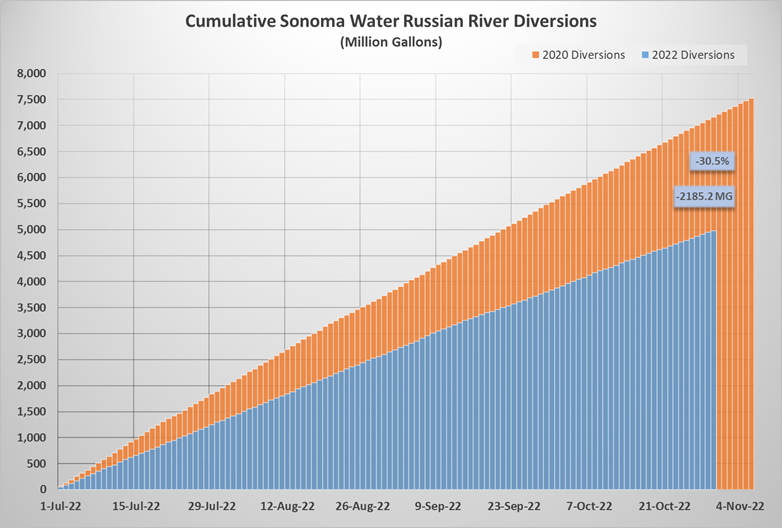 ---
Drought Is Still Here. Save Water.

The Sonoma-Marin Saving Water Partnership has launched a public outreach campaign to encourage water conservation in the North Bay. To support this message, we've adopted a regional tag line: "Drought Is Still Here. Save Water." Water is a resource that our community shares, and it is critical that we all protect and conserve this valuable resource.
These are a few of the water-wasting activities that are prohibited year-round in cities in Sonoma and Marin county:
Washing sidewalks, walkways, driveways or other hard surfaced areas with a hose. Use a broom instead.
Irrigation runoff to streets and storm drains from overwatering or sprinkler-overspray of landscapes.
Using a hose without a self-closing shutoff nozzle to wash cars, boats, or trailers.
Irrigating outdoors during and within 48 hours following measurable rainfall.
Using potable water in decorative water features that do not recirculate the water.
For additional water saving tips and resources, please visit the Sonoma-Marin Saving Water Partnership website.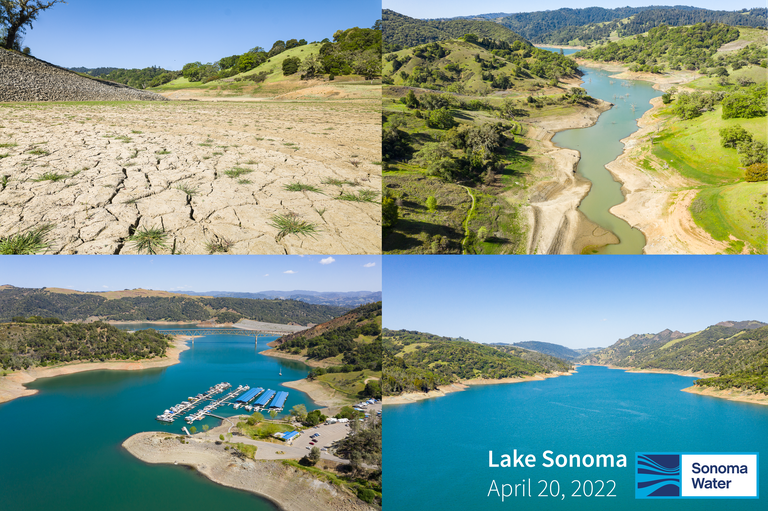 ---
Local Water Supply Articles
North Bay agencies seek $83 million to expand water recycling amid drought - Press Democrat - May 18, 2022 
Sonoma County Water Agency Receives 2022 Excellence in Innovation Award - ACWA - May 05, 2022  
Fees, budget give Sonoma Valley groundwater board headaches - Kenwood Press - May 15, 2022
Marin water districts study options for new supply
- Marin Independent Journal - May 1, 2022
Looking for past articles? Visit our Drought Articles Archive page.