Drought Updates
The winter rains have significantly improved our water storage capacity at Lake Sonoma and Lake Mendocino. While reservoirs are full, it's still important to save water. Every drop we save now will be available in the summer when it's needed for people and wildlife.
---
General Updates
Since March 2023, 10.92% of Sonoma County is in moderate drought. Visit Current Conditions for Sonoma County to view the U.S. Drought Monitor (USDM). These graphics show the location and intensity of drought.
On Jan. 12, 2023 the U.S. Drought Monitor upgraded the county's drought status from "severe" to "moderate."
On October 31, 2022 Sonoma Water filed Temporary Urgency Change Petitions with the State Water Resources Control Board. The TUCP was submitted to address significant reductions in flows into the East Fork Russian River through Pacific Gas and Electric Company's (PG&E) Potter Valley Project (PVP) due to a transformer bank failure, as well as continuing drought conditions in the Russian River Watershed. Additionally, the TUCPs request that the hydrologic index be based on Lake Mendocino storage values, rather than the current index based on cumulative inflow into Lake Pillsbury, starting December 14, 2022.

Residents are encouraged to continue using water wisely and eliminate water-wasting activities. Learn more water-saving tips at savingwaterpartnership.org.
View the past Drought Town Hall series recordings and FAQ on the drought emergency.
---
Moderate Drought 
Long-term water conservation by all community members is essential to preserve our water supply in the future. 
These are a few of the water-wasting activities that are prohibited year-round in cities in Sonoma and Marin county:
Washing sidewalks, walkways, driveways or other hard surfaced areas with a hose. Use a broom instead.
Irrigation runoff to streets and storm drains from overwatering or sprinkler-overspray of landscapes.
Using a hose without a self-closing shutoff nozzle to wash cars, boats, or trailers.
Irrigating outdoors during and within 48 hours following measurable rainfall.
Using potable water in decorative water features that do not recirculate the water.
For additional water saving tips and resources, please visit the Sonoma-Marin Saving Water Partnership website.
What is Sonoma Water doing in response to the drought?
Sonoma Water U.S. Army Corps of Engineers (USACE) have increased water storage capacity at Lake Mendocino by managing reservoir levels based on high-resolution weather forecast data. This innovative program is known as Forecast Informed Reservoir Operations (FIRO).
As a result of FIRO, Lake Mendocino is holding an additional 11,650 acre-feet of water. 
A study is in progress to determine if FIRO can be used to improve storage in Lake Sonoma
Water releases by the USACE from Lake Mendocino and Lake Sonoma are necessary to prevent floods due to potential incoming storms and to sustain Russian River Watershed wildlife (i.e., endangered and threatened salmon species).
Sonoma Water and other local agencies are conducting groundwater banking studies to explore the possibility of recharging local aquifers during the rainy season. The results of one pilot project, known as the Aquifer Storage and Recovery project (ASR), were promising showing that groundwater levels increased and the water quality remained good.
Sonoma Water's ASR is the first of its kind in the North Bay region, and its success provides a blueprint for future projects.
To ensure sustainable groundwater management in Sonoma County, Sonoma Water and other local agencies created three Groundwater Sustainability Agencies (Santa Rosa Plain, Petaluma Valley and Sonoma Valley).
Each Groundwater Sustainability Agency (GSA) successfully submitted a comprehensive Groundwater Sustainability Plan (GSP) for each basin to ensure sustained water availability and groundwater management over a 20-year period. 
All three GSPs (Santa Rosa Plain, Petaluma Valley and Sonoma Valley) were approved by the California Department of Water Resources on January 26, 2023.
Explore various efforts and initiatives in the timeline below by clicking through the photos and text.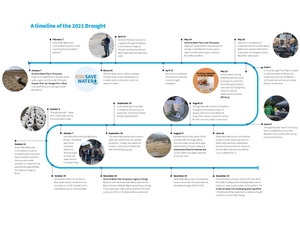 View drought Frequently Asked Questions.
view Sanitation Water Efficiency Rebate Program
2022 Drought Town Hall meetings 
Sonoma Water and the County of Sonoma coordinated seven Drought Town Hall meetings to update the public on the drought emergency. 
Experts provided the latest information on drought conditions and answered public questions. Participants received information on the prospects for a fourth year of drought and learned about programs to help private well owners.
View the drought town hall recorded video presentations and materials 
---
2022 Cumulative River Diversions Weekly Report
To monitor our progress on achieving the 20% river diversion reduction requirement under the June 2022 TUCO (term 12), we'll be issuing a weekly diversion report. This plot of cumulative diversions continues the same weekly reporting implemented last summer. Below is the current week's plot of cumulative river diversions starting July 1st, shown in comparison to baseline 2020 diversions over the same time period.